De Marque's 30+ year history was always rooted in putting technology to the service of advancing culture and knowledge. We pivoted and transformed ourselves throughout the years, using our know-how and expertise to assist creators, publishers, teachers, students and readers in the realm of digital publishing.
Vision and mission.
We connect people and creators across the world so culture can easily thrive everywhere.
De Marque Group will become the premier global digital content ecosystem, to connect and promote culture online not only internationally but on a local level as well.
The keys to this success lie in our proven partnership-focused approach as well as through innovation and passion.
Our technology will advance discoverability, diversity and openness by decentralizing data and creating easy-to-use applications and forward-thinking services for content creators, distributors and consumers.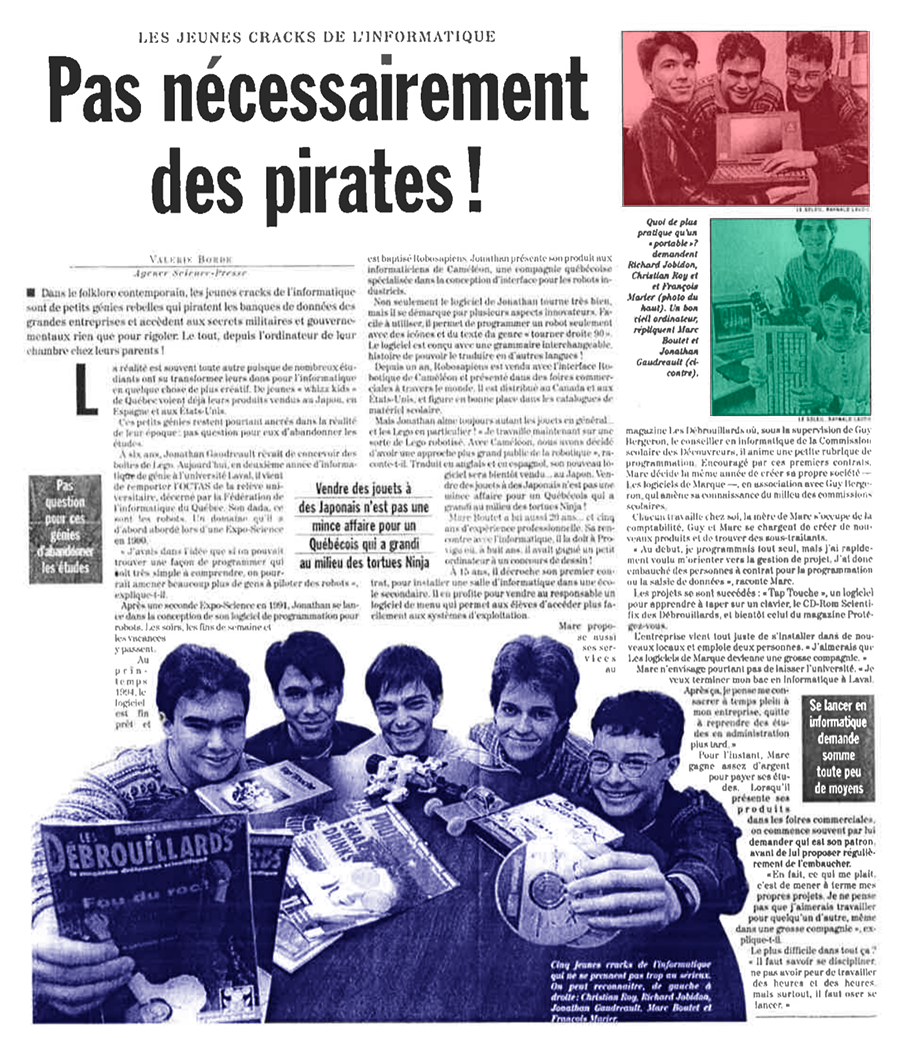 1990-1996
De Marque was founded in 1990 by Marc Boutet in his parents' basement at the age of 15 years old. What was supposed to be a summer job instead lit his entrepreneurial spirit and became his life's work. 
These modest beginnings were nonetheless essential to De Marque's initial forays into software development, as the creation of Tap'Touche (or Typing Pal in its English version) would happen during this time. Thanks to its ease of use and engaging experience, the popularity of the typing learning software spurred rapid growth for the fledgling company.
No longer just a side project, De Marque became a legitimate entrant in the educational software market.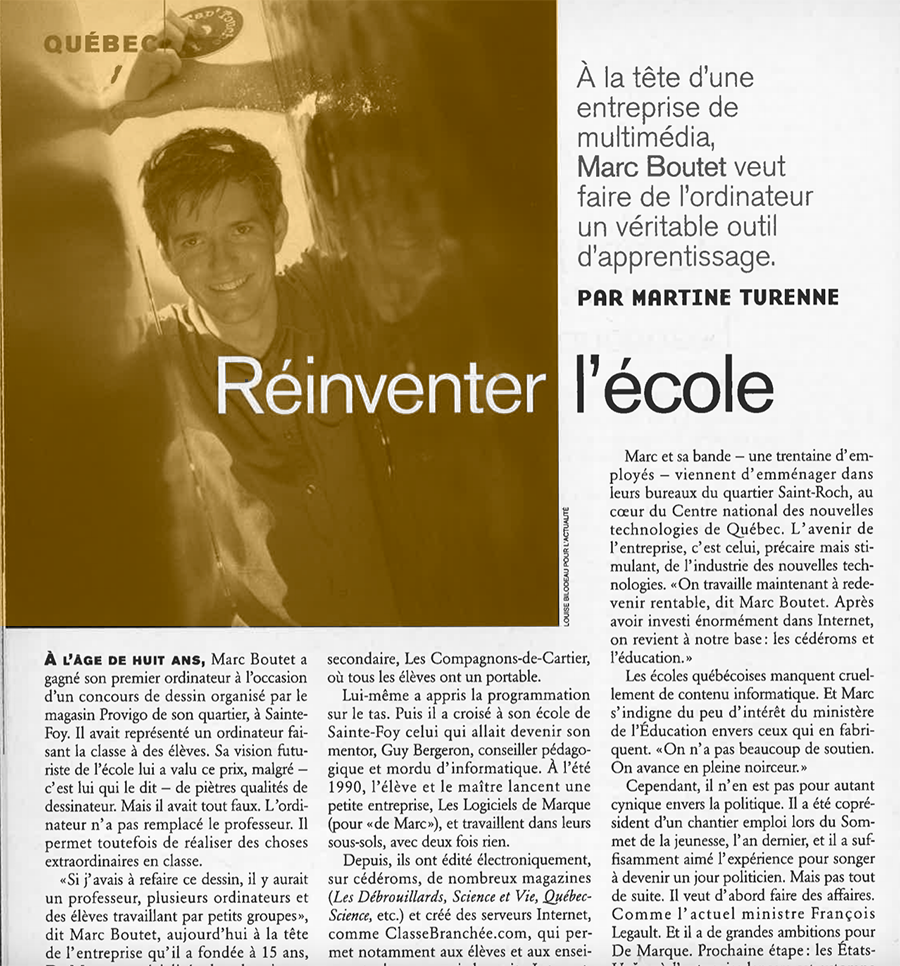 1996-2008 
Operating from our very first offices, De Marque continued development on Tap'Touche while venturing into other products, such as Budget Express and magazine digitization, but our presence in the educational market was undeniable. Thanks to Tap'Touche's popularity in schools, we successfully developed strong relationships with teachers and academic advisors. 
Thanks to this network, we began distributing other digital and technology-based resources for classrooms. From online dictionaries to image banks on CD-ROM, we helped numerous other like-minded K-12 developers reach teachers and students. 
We became a pillar for the modernization of classrooms and helped usher in the era of interactive whiteboards. We also created L'École branchée magazine, which advocates for the advancement of education by helping it meet the challenges of the digital age to promote student success.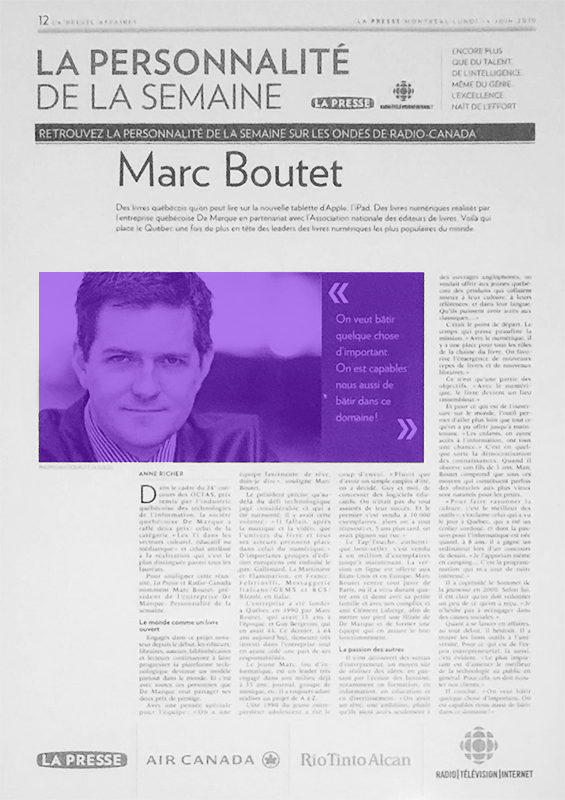 2008 to today
The shift towards distributing digital content was an important one that truly defines who De Marque is today, bringing full circle the mission we had set forth from the get-go.
In 2008 we launched Cantook Hub, our ebook and audiobook distribution service. Through an initial partnership with l'Association nationale des éditeurs de livres (ANEL), it was designed to give Québec-based publishers the tools and know-how to join the world of digital publishing. The technology was so strong, it was exported overseas to France (2009), Italy (2010) and Spain (2014), entrusted by large publishing consoria to distribute their digital content around the world.
Cantook Station, our library learning service, was born in 2011. A partnership with Bibliopresto brought e-lending in public libraries across the province of Québec and later in libraries in Canada, France, the United States, Belgium and Switzerland.
We have grown remarkably with strategic acquisitions of Libranda in Spain and Feedbooks in France, adding some important pieces to our vision, such as an online bookstore and the Aldiko mobile reading application. We have entered schools through Biblius. More than ever, we are connecting with people on every level.
Today, De Marque has become an ever-expanding ecosystem of products and services. But above all, its story is one of a passionate team determined to cultivate the unique relationship between publishers, booksellers, libraries, schools… in other words, between readers and their books.
Truly, the story is still to be continued.