Your readers are looking forward to your next great book. Let's help you get it to them.
De Marque has been perfecting its Cantook Hub all-in-one ebook and audiobook distribution service since 2008. Whether you want your ebooks and audiobooks to reach a global audience or be undeniable in your local market, we have the power and the flexibility to help you reach your sales goals.
Beyond the tech, our in-house experts also help you make the best decisions to take advantage of the opportunities that present themselves to you. We trim down the complexity so you can focus on what you do best: providing great reads for your audience.
After all, some of the world's largest publishers and publishing consortia put their faith in us.
Whether you stay local or go global, Cantook Hub's network of thousands of bookstores and sales points will get you to your audience.
Countries and booksellers are accessible in just a few clicks. Be as selective as you want!
Our currency conversion features take the hassle out of dealing with exchange rates. You'll be selling worldwide in no time.

All ebook and audiobook file formats are welcome: EPUB, PDF, MOBI, iBooks, MP3, WAV, FLAC… we take them all!

We have powerful features for setting up pre-orders, flash sales and campaigns. They are flexible and detailed, giving you unprecedented control over your promotions and special offers.

We perform quality checks on each of your EPUB files before sending them to bookstores.

We alert you when your titles don't meet the necessary sales conditions at various sales points thanks to our tracking dashboards.

Add copy protection before sending them off for sale. Or don't. It's up to you.

Use our analytics to spot trends, survey performance and get an overview of your ebook and audiobook sales.

Drill down as deeply as you like by combining multiple filters: Overall unit sales for your Young Adult titles in the UK? Do it. March 2020 sales for audiobook library sales? Absolutely possible. Configure the reports you want to make the most informed decisions you can.

Customize your analytics reports and save them in a flash with a direct link. Or download them in a spreadsheet file. Or both!
A FEW OF OUR PARTNERS AND CLIENTS.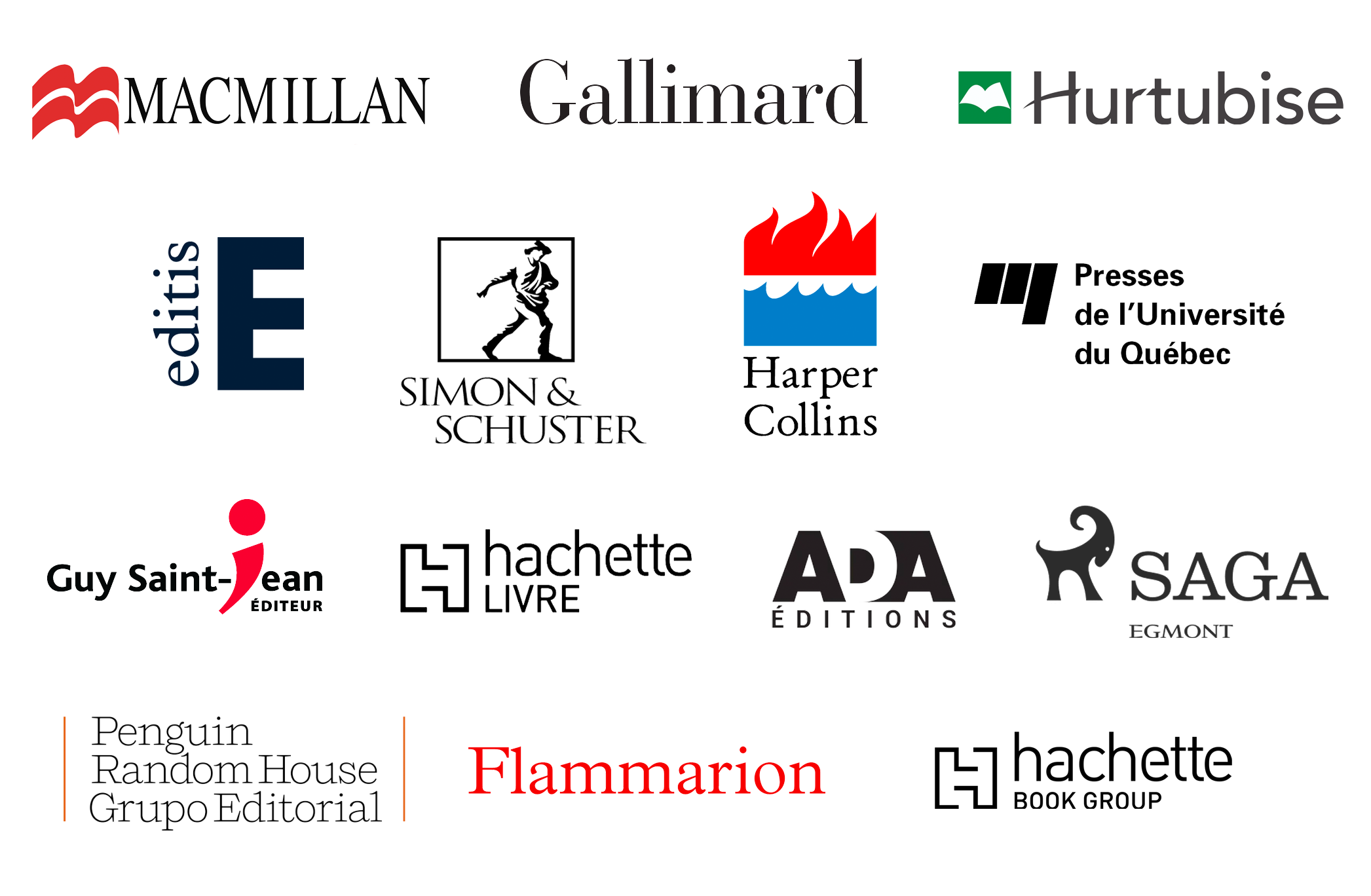 Pure digital expertise.
Tech is great, but people are too: De Marque has been helping the publishing industry adapt and grow in the digital space for over a decade. Our team's expertise, especially when it comes to marketing, is unmatched.
We help you go beyond metadata best practices to reach peak optimization.

We work with online bookstores to create promotional and marketing opportunities for you.

We recommend promotional strategies and tactics to make the most out of your marketing efforts.

We're right by your side in helping you understand the ebook and audiobooks market and navigate this constantly evolving sector in publishing.
Expand further.
Cantook Courrier
Create one-on-one relationships with your customers or send digital review or author copies with our personalized content delivery service.
EPUB Conversion
Entrust De Marque with converting your publications to EPUB format. Not only do we produce industry compliant EPUB files, but we also offer the production of accessible files that correspond with international criteria.